Well the sun has been shining for several weeks – we don't want to tempt fate and a change in the glorious mini Irish heatwave but here are our top 5 things to do in Dublin when the sun shines, to help you make the most of this wee Irish miracle!
Head for a picnic
Make hay while the sunshines and head for some of our lovely parks in central Dublin. Grab a blanket and choose from Phoenix Park, Iveagh gardens, St. Stephens Green or the grounds of Trinity College. You could make your own butties ( sandwiches! ) in the Hostel or grab some easy picnic food in the food halls at Marks and Spencer's or numerous delis around the city
Make a bee line for a beer garden
Toners on Baggot street has a cute little beer garden at the back of this historic pub . Mingle with city workers after work at Ely Wine bar at the CHQ on St. George's Dock. Ely has an outside sunny terrace looking onto the dock and better still, it's only a 3 minute stagger from Isaacs
The Dylan on Harcourt street has a lovely roof top garden with views across the city. Also on the Southside one of our favourite pubs is the Bernard Shaw on Lower Richmond street which has creative outside areas , pizza served from a bus , music and an Eatyard next door!
Further afield a 35 minute train journey will bring you to charming Skerries ( where I happen to live so I'm a tad biased ) Skerries has the only west facing harbour on the east coast and is simply the best spot to = watch the sun go down over the sea while tucking into beer and seafood outside any of the harbourside hostelries.
Do a bike tour
Not as hot as walking around the city and a great way to get around the highlights of Dublin in a jiffy. Feel the breeze in your head as you cycle around Dublin's historic streets . You cango it alone ;hire bikes or do a bike tour.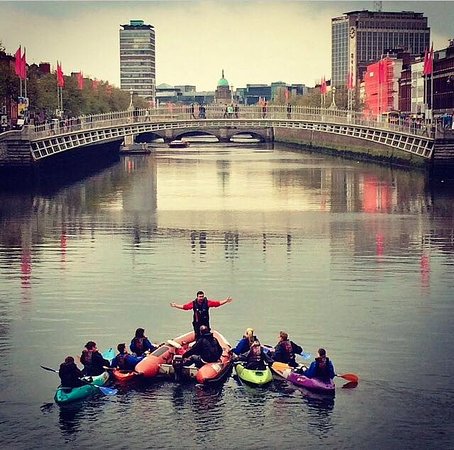 Watersports on the Liffey
City kayaking just down the road from Isaacs is a great spot to view the city from a different angle altogether from the Liffey River . You can also wake board down in Grand Canal dock . Not quite Watersports but the Viking splash tour is great fun on the amphibious Duck vehicles (or "floaty trucks" for the lazy amongst us ) which do end up with a splash in the water
Go for a sea swim or coastal walk on Dublin's coastline
Dublin on the east coast is remarkably close to some great seaside spots and a short dart or Bus ride will bring you to some amazing beaches, Coastal Villages, Cliff walks and inspiring views .
Dollymount Strand , Howth head , Portmarnock Strand, Bull island, The Fortyfoot at Sandycove, Dalkey , Greystones and Bray are all but a hop skip and a jump from the city . For the hardy amongst you could bring your swim gear for a refreshing dip in the Irish sea or at least get your trainers off and feel the sand between your toes and have a paddle
Have fun, don't forget your suntan lotion and of course your rain Mac.
PS Guess what? The weather just changed while writing this article and the sun has run away !